Redha Al Ansari concludes the Wheels of Fortune Promotion 2015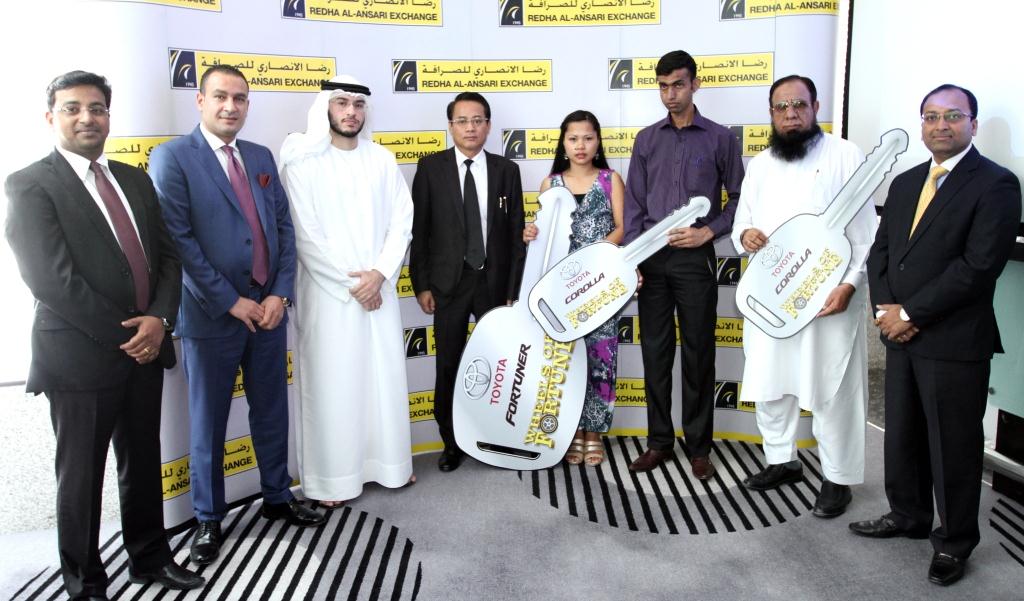 Redha Al Ansari Exchange one of the oldest remittance brands in the UAE, which vouches and stands by the sentiments of its customers, has conceptualized a 'return reward' for their loyalty to the brand titled as the WHEELS OF FORTUNE. In an event which took place at Hilton Creek Dubai, to felicitate the major winners, under the august presence of the co sponsors of the promotion and other invited guests the sixty day long promotion has officially concluded.
The promotion that was scheduled from 28th May, 2015 until 26th July, 2015, covering the period of Ramadan, gave away to its customers' 60 gold bars, 15 Samsung TVs, 15 Ipads, 2 Toyota Corolla cars as prizes for fortnightly draws and 1 Mega prize of Toyota Fortuner for the mega draw. The winners were selected from all transactions, excluding utility bill payments and allied services, across the branches of Redha Al Ansari Exchange in the during the promotion period.
Redha Al Ansari Exchange takes pride in their customer rewarding mechanics and each year such promotions ensures that the hard earned labor of the customers sent as remittances from their branches are given a value addition. More than the value of the prizes, the happiness of the customer is what drives such events to a grand success. Known for the legacy they uphold, the exchange house is in continuous pursuit to improve the customer connect which ultimately is the passion and the foundation stone for sustained growth and unsurpassed achievements.
The keys of the Toyota Corolla cars were awarded to the winners, Mr. Asmat Hayat Muhammed and Mr. Jehan Zeb Akram Khan, by the representatives of the promotion partners, which is, Western Union represented by Senior Manager Gulf Mr. Mohit Gupta and Himalayan Bank Limited Nepal, represented by their Officer Mr. Subodh Rai. The Mega prize a Toyota Fortuner was awarded to the lucky winner Ms. Merisa Villarmino Saveret by the representative of the management team of Redha Al Ansari Exchange, Mr. Hamad Ahmed Al Ansari.
The felicitation was followed by a short speech by each winner and the words of the mega prize winner, Ms. Merisa was heart touching and stands proof to the extent to which this has influenced her life. She shared that the dream of winning a prize was nurtured since the last year's Wheels of Fortune draw and she was hopeful of winning it then. Her prayers were heard and this year she won the mega prize and feels blessed about it. The other two winners also shared the same feelings and felt grateful to have won the prize.
To quote, Mr. Ali R. Al Ansari, CEO of Redha Al Ansari Exchange, "Wheels of Fortune promotion is our humble way of thanking the customers for their loyalty and trust towards us. Going by the tag line of 'Partnering your dreams' it is our constant endeavor to touch the lives of our customers in the best possible way by adding value to the services we offer them.Redha Al Ansari Exchange is in the expansion spree will see many more developments down the line"