Yellow Pay- the most comprehensive WPS compliant payroll solutions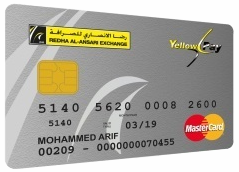 Yellow Pay is a WPS compliant payroll solution of Redha Al Ansari Exchange. It always guarantees the employees under this program are paid on time and have the freedom of withdrawing salary as per their convenience as it is meant in the product tagline Yellow Pay - "Convenience assured".
Yellow Pay - powered by Master Card, offers value addition to its tagline "Convenience assured". The Yellow Pay card program comes with rich features for the cardholders.
ATM card powered by Master Card.
One free withdrawal in a calendar month from any master card powered ATM
EMV-CHIP & PIN card for ensuring maximum security (password protected).
Card validity for 7 Years.
Cash withdrawals across the globe.
No hidden charges applicable.
POS transactions globally - can be used as a debit card at different merchant locations.
Special periodic merchant discounts to card holder.
Considering the excellent features it holds, the program is priced reasonably to ensure that it benefits the employees and the employers at same time.
For joining the Yellow Pay program please call +971 50 1810945/04-2677706 ext 121/122/125 or send us an email: yellowpay@redhaalansari.com
If you are already a member please sign in -